2019 GIFTS FOR THE HOSTESS AND HOME by Tabby's Pantry

Its that time of year we are all getting invited to great Holiday parties. Do you know what you are going to bring? We have some great gift ideas for the hostess. From drinks to home decor and so much more, for example you could even try to Create Your Own Bobble Heads for your family as well as the hostess and her family too! No matter what your host loves, you are sure to find the perfect gift here, and if not make sure to look around online for a while so you can!
DoorDash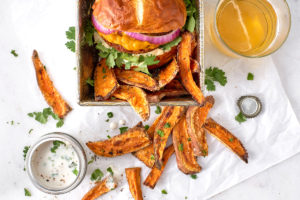 As you are shopping and wrapping for the holidays think about ordering from DoorDash. You can get so many great meals brought right to you. Take the night off from cooking hang out with the family watch a movie and get some of that holiday wrapping done for the night.
Karma
Candles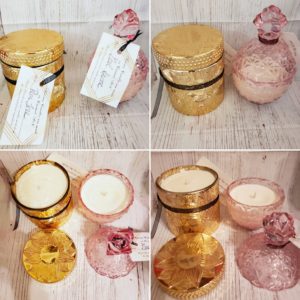 Ok when I first got Karma Candles I though no way these are candles. They have to be the most beautiful candles I have ever seen. Then i smelled them and I was floored. Its hard to get their beauty into one picture so make sure to check them out here on instagram too. These are hand-poured naturally scented candles. Want even more reason to buy these they also help give to a great cause donating candles to current cancer warriors to provide that glimmer of light and hope I am in love with Karma Candles and I think any hostess would be proud and excited to get one.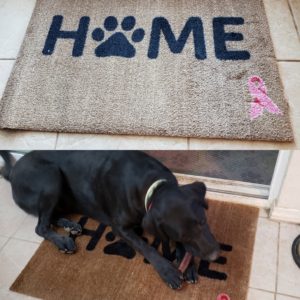 I love my Carpet One Welcome a Cure mat. Perfect mat for the puppies does not move at all. I love that 25% of each $29.99 Mat supports the leading breast cancer research organizations- Breast Cancer Research Fund. This mat not only do my puppies love as you can see it does not slide and helps keep the dirt on the mat and off the floor. This is such a great gift for any home and money goes to a fantastic cause.
Basketballs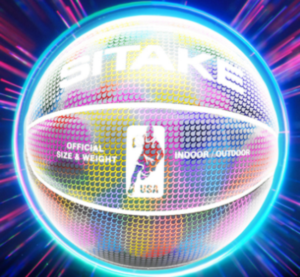 Sink a monster 3 pointer from deep outside.. At Night ! Luminous Reflective Glowing Holographic Basketball. NBA Official Size 7. Made from Premium grade material. For Indoor and Outdoor use. FREE Pump, Inflation Needle and Bag. Perfect gift for any season
Cooks Who Feed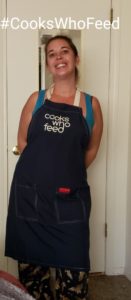 I love to give a great gift that the hostess will love and that gives back to a great cause. Cooks Who Feed is one of these company's. They have beautiful a beautiful handmade apron. If your hostess loves to entertain then this is the gift for her/him. "From the moment the fabric hits the sewing machine to the time it ends up in your kitchen, our aprons have employed poor women, fed their families, reduced food waste and fed 100 people. That's a lot for one apron."
Free Your Tea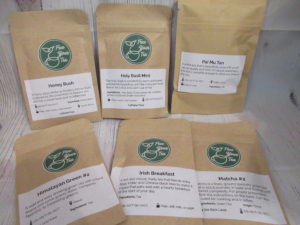 Do you know a tea lover then Free Your Tea is a must have. It comes with a few different ones to try and has instructions on the back. This is a perfect gift for someone who loves tea, yet you don't know what kind. they get a few different ones and you can buy early and have it sent. No worries about forgetting your tea lover friend. You can Subscribe for a monthly gift to me sent. Some of the teas i got Himalayan Green #2, Irish Breakfast, Matcha #2, Pai Mu Tan, Holy Basil Mint, and Honey Bush. Loved them all but Irish breakfast and Honey Bush so far my favorite.
Vellabox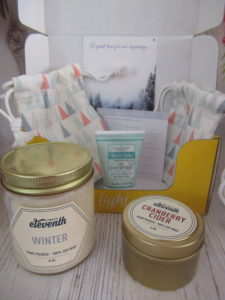 Vellabox is a great subscription box that your Hostess is going to love. Each one comes with great hand poured candles for the month. Mine also had another cute little gift in it a foot spa butter that was fantastic. I got Winter and Cranberry Cider candles and they smell fantastic. They have a few different subscriptions you can buy so no matter what your budget you will find one you love. I love that each candle come wrapped up so you can buy for yourself and give each candle away as a present.
Lucky You Flowers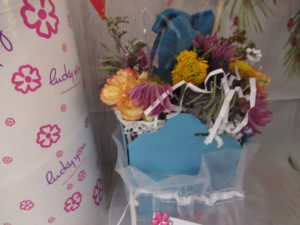 Do know a flower lover? Then Lucky You Flowers are the way to go to say thank you. It's fun and unique, the price point is great, it lasts forever with no care required, and it comes with a personalized fortune cookie message to your special someone. They have a few products to choose from so no matter what you are saying thank you for you are sure to find the perfect gift here.
The Tea Club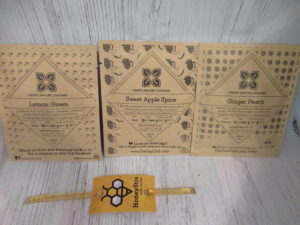 One for our tea lovers who love all kinds of tea. The Dollar Tea Club is a monthly club your hostess is going to love. With so many great teas out there how can you pick just one to love. Now you don't have to. You can start your subscription for just $1 that is awesome and they have a ton of different tea's that are fantastic. So far I have not found one that I don't love. They even have Honey Stix I got some awesome teas Ginger Peach, Sweet Apple Spice, and Lemon Green.
Hunt A Killer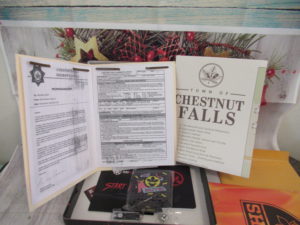 A great gift for your home or the Hostess Hunt A Killer is so much fun. A great gift for the family that likes to get together and help hunt the killer. You will get a new box every month so this is great for familys that like to do a game night all the time. Get the box get the clues and start solving.
Baking Soda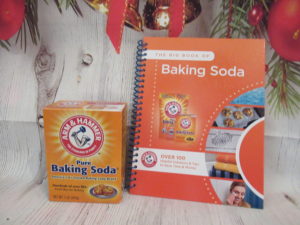 Did you know there were so many great uses for baking soda? Well then you must check out The Big Book Of Baking Soda. This book has over 1000 useful tips for using backing sod in your home and every day life. This is a great gift for the home with so many Baking Soda hacks you are going to love it.
Offensive Crayons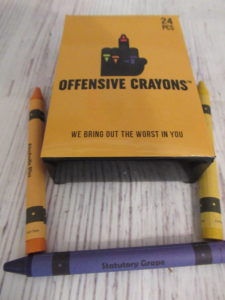 Offensive Crayons are going to make a fantastic joke stocking stuffer. even a fantastic White elephant gift. They have 2 sets the original and the Holiday Edition. If you are looking for a fun and unique gift for the holidays these are going to be a blast. What you need are Offensive Crayons. Gone are the safe colors like "goldenrod" or "violet." Now we have "Suspicious Cold Sore Red" and "Privilege"
Jones Organic Tea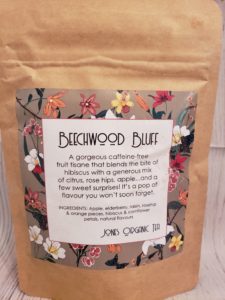 The Beechwood Bluff was fantastic. I love a great loose leaf tea. It's sweet, tangy, and unexpected. If you've never tried a loose leaf tea, here's your chance. Brew up a cup of this rich, magical fruit tea, sweeten to taste, and prepare to be amazed. It's great hot or chilled, and the kids in your life may also love it!
White Elephant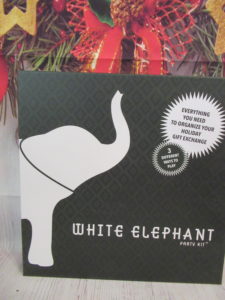 Every year our family does white elephant. With so many of us it is some times hard to keep track. With the White Elephant from Solid Roots package you have everything you need to keep track and have some fun at your next party. White Elephant gifts tend to be the ones that are either burdensome to keep around and get rid of or just sad and disappointing. The real fun isn't in the white elephant itself; it's in the process of getting the white elephant. Or better yet, unloading your own white elephant. While you might not be the King of Thailand, you can still give white elephants away with the White Elephant Party Kit.
CINEMOOD Debuts New Projector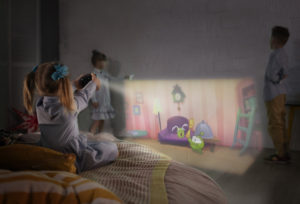 The new projector introduces 360-degreevideo and motion technology capabilities to turn the walls, floor and ceiling of any dark room into an immersive entertainment, educational and active play experience for kids. Its unique handheld nature provides a more dynamic viewing experience and is designed durably to withstand rough handling. Soft lumens and the very limited blue light protect kids eyes.
Merry Christmas Gift Basket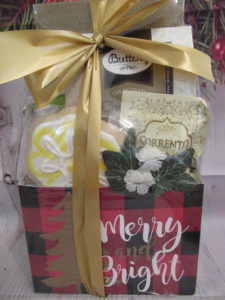 Jet Gift Baskets has the perfect gift basket already made for you. Just order and its ready to give as a gift to the hostess or neighbor. This gift Basket sells for $44.99 and is ready to send straight to who you are giving it too or to you so you can bring it. Inside the Merry Christmas Gift Basket you will find Bakery-fresh hand-iced shortbread gourmet cookie, Italian Amaretti Cookies, Primrose Hill Confections Butterscotch Candies, Seasonal drink selection and Ultimate Chocolate Chip Cookies
Succulents box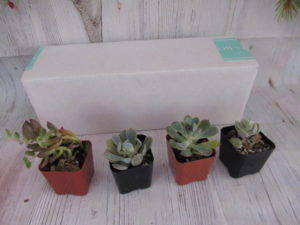 If you know a plant lover then the Succulents box is going to be a must have. My son loves new plants and went nuts when this showed up. Every month they get new Succulents shipped right to their door They come in perfect condition and ready to be planted. Succulents are easy to grow, low-maintenance and come in various vivid colors and shapes. Thanks to the small size and hardiness, succulents has quickly gained popularity among millennial and is now one of the trendiest house plant. They fit perfectly in small space and are great material for DIY projects. Succulent arrangements are neat, easy to maintain and would look great in any occasion. Want even better news? They gave us a discount code LOVEPLANTS to get 15% off your first order.
Trumans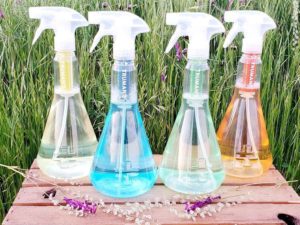 I am always looking for great non toxic cleaners for my house. With little guy and a ton of pets I need my house to be clean, but I never want what I am cleaning with to hurt my babies. Truman's has a line of cleaning products that are non toxic , but really get the job done. Whats even better is they cost less then , then the other house hold cleaners. You are just paying for the cleaning ingredients the pods go into the spray bottle and you add your own water to it. Truman's Starter Kit starts at $15.00 what could be better. Because you add water at home, the bottles ship empty, dramatically reducing the company's carbon footprint compared to competitors who ship a solution that is 98% water from factories to distributors to retailers and, ultimately, to homes. It takes 30 semi-trucks filled with ready-to-use cleaners to equal just one truck of the equivalent of Truman's refill cartridges.
Nutcracker Holiday Party Collection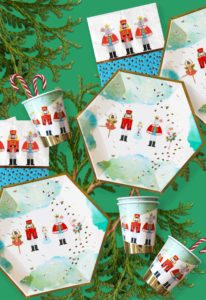 When showing up at a holiday party never show up empty handed. These Nutcracker Holiday Party Collection are a perfect gift put inside a little gift basket and you are ready to give. Nutcracker Holiday Party Collection is such a cute collection and will be a hit at any holiday party this year.
TwentyFifty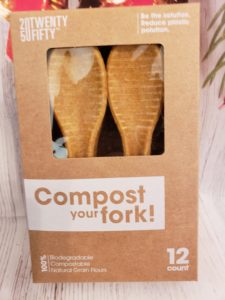 Do you know how much plastic spoons and forks get thrown in the trash this time of year? When having a party this year think of going greener. TwentyFifty look cute and will look fantastic at your event this year. A TwentyFifty fork, spoon or knife is composted in 30 days or less and according to founder, Zack Kong, actually provides a significant amount of nutrients for your plants. They have the perfect solution for your get together this year.
LumiCharge 2.0 LED Lamp, Multi-Phone Dock and Bluetooth Speaker
Now I could not decided if this should go under gifts for her, Gifts for him or gifts for kids. The truth is everyone in the family needs one of these they re going to be fighting over it. With the bed side lamp, wireless charger and Bluetooth Speaker this has everything you need to chill and recharge. the smart LumiCharge 2.0, a combination LED lamp, and phone charging station. The stylish fixture, available in white, silver or black, features a smart calendar display built into the arm, displaying day, date, time and temperature (and which automatically adjusts for Daylight Savings Time).
Tablift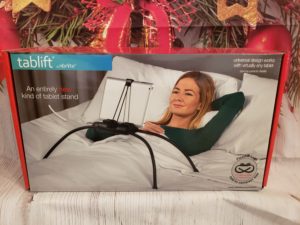 I have to admit I do not used my Tablet too much. I hate always having to look down at it. Then i'm looking for boxes and other items to hold it up do my arms don't get tired. The Tablife is perfect for the while house. The Tablift was created to solve the not-so-age-old problem of how to relax while consuming content on your tablet. You can lay down completely flat and your tablet hovers in the ideal viewing position in your line of sight. It is perfect for a cold winter day but also a lifesaver when it comes to relieving your hands and arms of the strain that comes with holding a tablet for extended periods of time.
Ein Shemer Apple Tree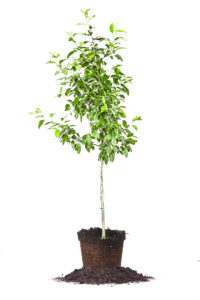 OMG can you picture giving a great apple tree to the family this year. Great apples for them to eat every year. The gift that keeps on giving. There's no comparison to the taste of a fresh picked apple right out of your backyard! The Ein Shemer Apple Tree is the package deal when it comes to fruit trees. It is low maintenance, self pollinating, and produces fruit within one year of planting. The Ein Shemer apple tastes deliciously sweet and can be grown across most of the United States. It is the perfect gift for any plant enthusiast, gardener, or fruit lover and is very easy to grow. Happy planting!
FYE Avengers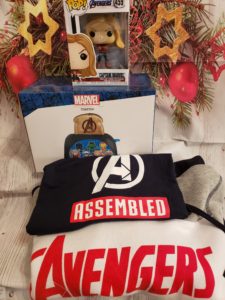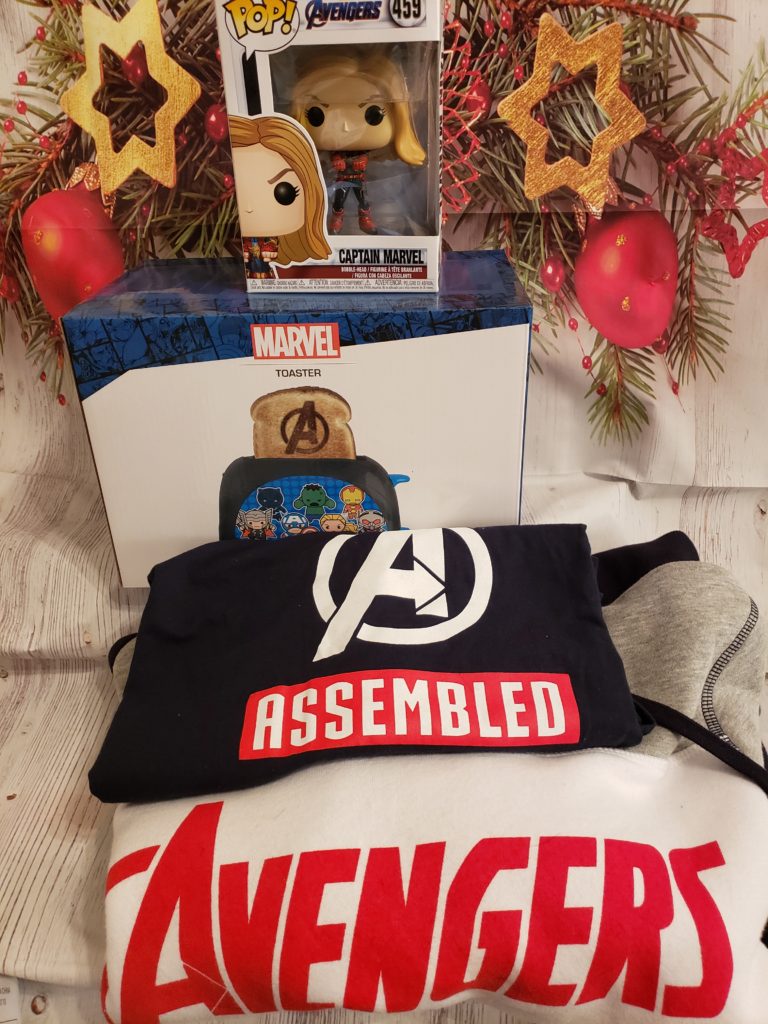 Our whole family loves the Avengers. I love that FYE has great items for the whole family. From clothes to kitchen and toys how about a great family gift of their favorite Pop Culture shows. They have a wide range of items that you can actually afford. Come see the full review here
Coral UV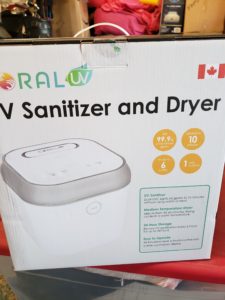 As I write this my little guy has that nasty tummy bug going around. This could not showed up at a better time. I am using the Coral UV on everything we own. Coral UV has become a kitchen appliance with applications beyond the baby stages. It can sanitize things that attract bacteria easily such as cell phones, utensils, cups, electric toothbrush, makeup brushes, hairbrushes and razors. If little guy touches it, it is going in the Coral UV. This is a great new home appliance for anyone. Help keep them protected from all those nasty sicknesses going around.
Pale Blue rechargeable battery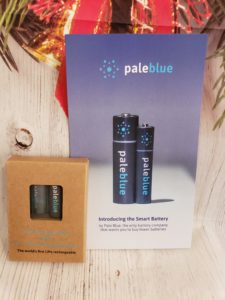 Batteries are a must this time of year with all the toys and electronics everyone is giving you are always going to need batteries. So why not go with a better battery These Rechargeable Battery's are going to be a great gift this holiday season. Pale Blue gets charged quickly (under 1 hour for AAA, under 2 hours for AA) and stays charged for longer—all using a simple microUSB port. Best of all, you're saving money and keeping toxic traditional batteries out of landfills.
Whyte Gate Farms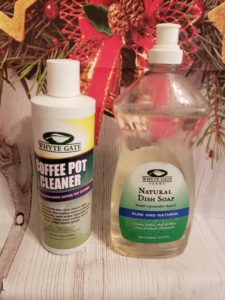 When it comes to our home I love for it to smell clean, but I don't want to use a ton of harsh products. I have a lot of animals and a little guy to worry about. Whyte Gate has a great pure and natural dish soap and a Coffee Pot Cleaner I know I can use to get everything clean and still protecting my family. They have put a lot of work into their product to make sure they work great and smell great.
HF Coors Holiday Dinnerware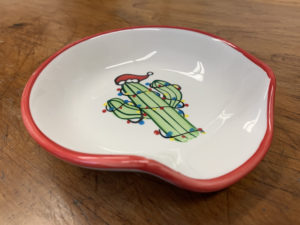 When I first got the chance to check out H.F Coors I new I loved them, but to be honest no pictures do them justice. When you get these in hand you notice the beautiful detail and unique designs that you cannot find anywhere else. HF Coors, a dinnerware manufacturer out of Tucson, Arizona, that makes 100% Made in America, lead-free, and chip-resistant dinnerware and gifts. They have an excellent selection of holiday dinnerware options and specialty ornaments Make sure to check out their collections you will not be disappointed and your dinner table will never look better. 2019 Collectible Ornament – Javelina Mother & Javelina Baby, Holiday Plate Set, Small Plate Christmas Tree Ornaments, Holiday Spoon Rest.
Brüush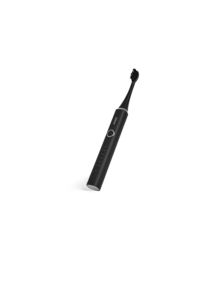 This is one I put under gifts for the house because everyone in the homes should have one. The Brüush is perfect for all your dental needs. Brüush is a well designed, high performance electric toothbrush subscription that's raising the bar in oral care.
Lilly the Bird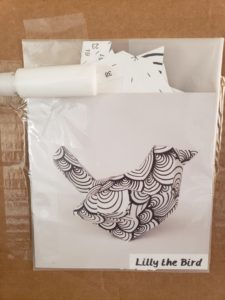 Do you have a creative hostess. Then they are going to love a nice relaxing fun project after everyone leaves. Lilly the Bird is a DIY paper animal that you bring to life using the materials included in your Resident paper craft kit. Resident, DIY Paper Craft Animal Kit your secret Santa's esthetic will truly shine. You can proudly display this paper masterpiece anywhere in the home or office to add a bit of flare to room. These fun kits make a great family bonding activity and are great for any skill level. The kits range in price from $25 onward.
For The Foodie
Topsy Turkey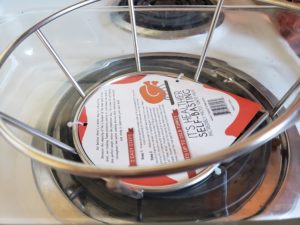 You all know I love a great new cooking gadget. I was a little iffy about the Topsy Turkey so we had to try it out. This was a little different first roast your turkey for 20 minuted then take out and flip over and place on your new rack. then just let it sit. No basting. I tried it out and was amazed the chicken was juicy all the way threw it was fantastic and not sitting in the grease. I will be using this on my Thanksgiving Turkey this year. The Topsy Turkey is a must have . Keep an eye on our Instagram page for a look at my chicken
subarz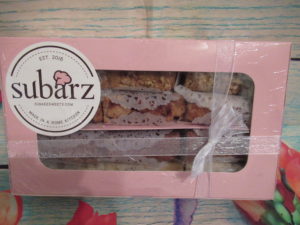 Are you looking to give a treat that is unique and made in a home kitchen then subarz is the way to go. They have a few flavors to choose from I picked Toffee Crunch, Traditional Chocolate Chip, Double Chocolate Almond, and Lemon thyme. This is going to be a great treat for your party.
Gringo Bandito hot sauce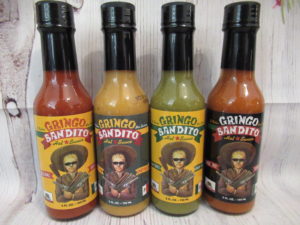 Do you have a spice loving foodie in the family? Then Gringo Bandito hot sauce is the way to go. This 4 pack gift set will be the perfect gift. With this 4 pack they will be enjoying some great food in no time at all. The perfect variety of all of our tasty blends! Includes 1 bottle of red 5 oz., 1 bottle of green 5 oz., 1 bottle of super hot 5 oz. and 1 bottle of spicy yellow 5 oz.
Spice Madam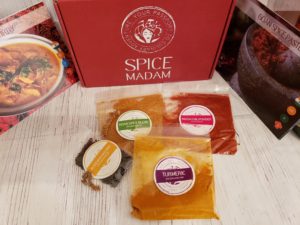 For the cook that loves to try everything Spice Madam is the perfect subscription box. You not only get a great selection of spices every month, but it also comes with recipe cards. For $20 a month, customers will receive a culinary adventure subscription box filled with spices, recipes and a Spotify music playlist from a different destination every month, as well as fun facts and travel tips from the destination country.
Premium cheese board & knives Set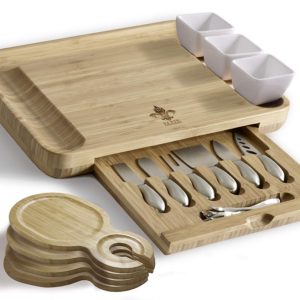 Do you know a girl that loves to entertain? This Premium Cheese Board & Knife Set is the perfect gift for the Foodie in your life or the hostess. This set is heavy and really unique. New design includes 4 cocktail buffet plates with wine glass holder. Our Simple, elegant design combined with superb craftsmanship serving set will last a lifetime. The beautiful 100% Eco friendly Bamboo board will add warmth & glamour to any table settings. This is going to be the best gift they get this year.
Innovia Paper Towel Dispenser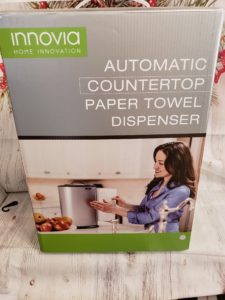 If you know someone that loves to cook then their kitchen is where they spend most of their time. There is nothing worse when I am in the cooking grove need a paper towel. I don't want to touch them all and get them all dirty. With the Innovia Paper Towel Dispenser all I have to do is wave my hand and I have one ready to go. Even better the Innovia has a sleek and perfect design that will give your kitchen a touch of class. I was truly impressed with their Paper Towel dispenser and will be using it for years.
Negg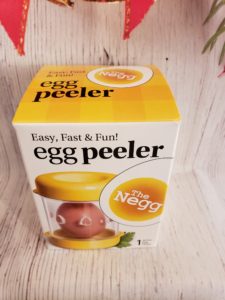 So many of my recipes call for eggs. I hate peeling eggs it seems like it takes forever. Negg is the perfect answer. Cold water and some shaking is all it takes for this hard boiled egg peeler to work.The product is available on the Negg website, Amazon, or a number of specialty retailers, including Sur La Table.The Negg® makes peeling eggs easy, fast and fun. It retails for $14.95 and is made in the USA.
The FRESHGLOW Co
There is nothing worse then when you buy your fruits and Veggies and they go bad very quick. Now we have a great product that will make a huge difference. FreshPaper sheets are infused with powerful organic botanicals that keep fruits & veggies fresh for up to 2-4x longer.
Spread The Love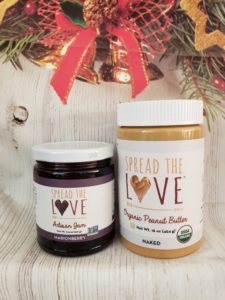 With so many different ones to choose from the foodie is going to go nuts for these this year. I had never tried Marionberry Artisan Jam I am so excited I got the chance to try it. It truly is unique and taste like a dream. Their peanut butter was also fantastic I love that they make a great quick snack that is different for me and little guy. A huge plus you know I love a company that gives back A portion of proceeds from ALL sales from November 28 – December 31 will be donated to St. Joseph Center, a charity that is near and dear to Spread The Love co-founders. . Make sure to check out Spread The Love's gift sets.
PB spoon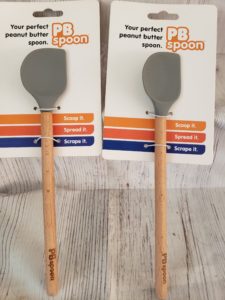 Anyone who loves to spend time in the kitchen knows how it feels to have that little bit left at the bottom of the jar and you just can't reach it. The PB spoon is the perfect gift. You can reach all those hard to reach places with ease.
Gindo's Spice of Life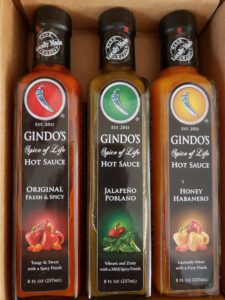 Hot Sauces are a fantastic gift for the foodie. They have some great gifts sets to choose from and I love that they can have them shipped right to them. Gindo's Spice of Life. With holiday season right around the corner which means that finding the right spice or hot sauce for family dinners is a must. Gindo's is a hot sauce company that inspires creativity in the kitchen and enhances food by adding flavor, aroma, color, texture and even nutrients.
12 Oaks Cake Gems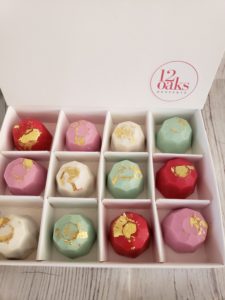 Have you ever seen little cakes look so beautiful. These will be a perfect gift for the hostess or the foodie in your life. 12 Oaks Desserts a dessert company that believes in making all of their sweet treats from scratch in order to ensure each order is made with the care, love, and precision it deserves. They have a whole line of deserts that are going to be a perfect gift this holiday season. They not only tasted great but also looked great.
Amora Coffee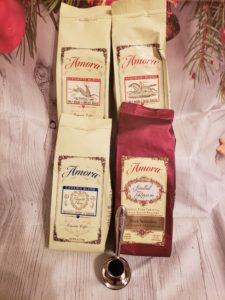 I do not know any hostess that does not need more coffee. Amora Coffee has a great selection that your hostess is going to love. They have teas and coffee you can subscribe too so you will never run out why not get some for the hostess and yourself this year. Amora Coffee is delivered directly to your door and costs between $14.95 for their original and flavored blends which come in 10 flavors and are available in 8oz bag sizes and $7.99 for their cold brew bags. Amora also offers a subscription service for true coffee aficionados at $68.75 which offers you a choice of eight custom gourmet blends which arrive at your door within 2 days
TÖST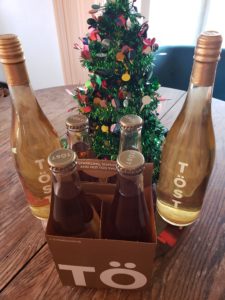 A great Non-Alcohol beverage is always a great gift to bring to the Hostess. TÖST taste wonderful and looks beautiful. if you have non drinker and kids they can still cheers with a great glass of TÖST. TÖST is a pure and delicious dry sparkling beverage of white tea, white cranberry and ginger.
Project Genius and AMIGO Games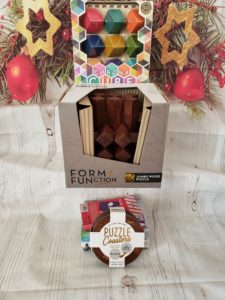 I love to give thinking games to the hostess during the holidays. Project Genius and AMIGO Games has a great collection and I love that when things slow down you can grab one at the event and sit and think for a minute. Everything gets so hectic that having a few minutes to yourself can really help. Check out some of the great thinking games Puzzle Coasters, Form Function, and CUBE.
————————————–21 and Over—————————————————
Alacran Tequila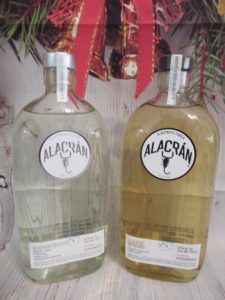 When going to a holiday party you should never show up empty handed. The tequilas from Alacran are perfect. They have a few to choose from and they all go down smooth. I love the care and beauty they put into their bottles as they truly look like a very expensive bottle and taste like it too. Alacran Cristal Tequila is priced at $42.99 and Alacran Reposado Tequila is priced at $49.99.
Blood x Sweat x Tears vodka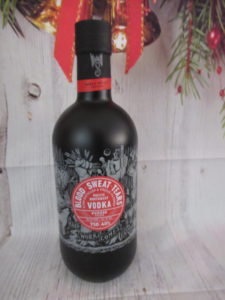 A great bottle on Vodka is always a great hostess gift. Blood x Sweat x Tears vodka not only has great packaging, but it goes down smooth. If you are making mixed drinking or having a little vodka on the rocks this is going to be perfect. Blood x Sweat x Tears which is made "for misfits": those that march to the beat of their own drum, which describes really every great leader. Whether s/he is the best Little League coach; a CEO who leads from the front; an entrepreneur who dared to take the risk; or an artist of any kind, that person will appreciate this 100% hand-crafted vodka from the Pacific Northwest.
Mionetto wines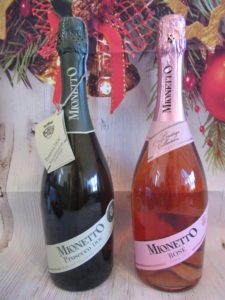 There is so much to raise a glass to this time of year. I love that Mionetto comes in the big size bottles or you can bring a few mini bottles to the event. They have a great taste and is always a fantastic wine to toast with. We got to try Mionetto Prestige Brut ($14 750ml / $4 Mini 187ml) Made from 100% Glera grapes from the province of Treviso, and Mionetto Prestige Rosé Extra Dry ($14 750ml / $4 Mini 187ml) This deeply luscious sparkling rosè is the result of soft pressing of red grapes.. They were both fantastic and will be the perfect gift for the hostess.
Everything on this page was given to me for this Holiday post. This post may contain Affiliate links. All opinions are my own.